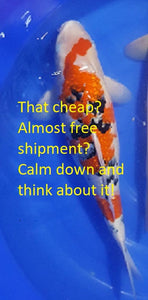 Too Good To Be True Price in The Koi World
As an experienced importer in the koi industry, it is important to address the issue of purchasing koi online at prices that seem too good to be true. While there are reputable koi farms that operate online, there are also fraudulent individuals who prey on unsuspecting customers. In this blog post, we will discuss what constitutes a "too good to be true" price in the koi world and provide tips on how to protect yourself from fraud.
Firstly, it is important to understand that reputable breeders in Japan, especially well-known ones, cull their koi at least 4 to 5 times in the first year after spawning. The final tosai koi that they keep are likely to be less than 1%. Therefore, it is highly unlikely that high-end koi will be sold at a cheap price. If the price seems too good to be true, it probably is.
Secondly, if the koi is being sold through Facebook or WhatsApp, it is important to scrutinize the seller's page carefully. Check the number of postings after the page was set up and if they do not have a website, it is unlikely that they can have minimal postings. Be cautious of Facebook pages that have many high-quality koi photos but have no contact information or website.
Thirdly, the fact that the seller has "friends" connected to breeders in Japan does not necessarily mean anything. Anyone can request to be "friends" and probably get "accepted". Always do your own research before making a purchase.
Fourthly, when it comes to international business, it is common for sellers to ask for payment in US dollars. Be cautious if the seller asks for payment in a different currency, especially if it is not a commonly used one.
Fifthly, be wary of website links that are provided individually for you to click on. They may lead to fraudulent sites. To verify the legitimacy of the site, type the URL link manually in your browser and see where it leads.
Sixthly, always ask for details of the terms and conditions for shipment and how it will be shipped. Experienced koi farms should have this information readily available. Be cautious if the seller does not have a written document.
Lastly, ask for packing information, such as the size and weight of the box, and get an estimated cost for shipment. Verify the cost with your local freight company for shipment of live koi from the Asian country to your location. If the cost seems too low, it may be a red flag.
In conclusion, it is important to be cautious when purchasing koi online. While not all sellers without a website or a Whatsapp contact are fraudulent, it is essential to do your research and take precautions to protect yourself. These tips will help you identify potential fraudsters and ensure that you can purchase koi with confidence. At Hoseki Koi & Pond, we value our customers' trust and are committed to providing high-quality koi at fair prices.
---