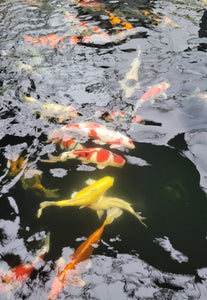 We are a company dedicated to retailing high-quality Japanese Koi in Toronto. Our journey started in 2006 when we built our first pond and began raising Koi. Since then, we have expanded our services to include the design and construction of water features such as water gardens, koi ponds, and indoor ponds.

We offer a comprehensive range of services, including pond consultation, design, construction, maintenance, and year-end cleaning. Our filtration systems include moving bed systems, bead filters, trickle filters, bakki showers, rotary drum filters, and more. We also provide koi quarantine and health management services to ensure that our customers receive the best quality koi.

Our commitment to providing the highest quality Koi sets us apart from other retailers. Every year (except during pandemic), we visit the famous breeders in Niigata & Hiroshima of Japan, including ISA, Dainichi, Marudo, Kaneko, Yajengi, Kanno, Miyatora, Iwashita, Koshiji, Tarozo, Hiroi, Omosako, Taniguchi, and Sakai, to handpick the best Koi from the breeders. Additionally, we offer Azukari koi boarding in Japan koi farms and participate in different koi shows, including the All Japan Koi Show, ZNA International Koi Show, and other koi shows in Japan and USA.
Our Current Koi Show Award Winners
Best in Size B Winner
The Kujyaku is awarded the Best in Size B (Non-Gosanke) in the Kodama Virtual Koi Show 2023 under the
Hikarimono (Hikarimoyo/Hikariutsuri/Hikari Muji)
55 Bu - 45-55 cm or 18-22"
2nd Place in Showa 60BU
The Showa is awarded the 2nd place in the Showa size 60BU category in the All Japan ZNA International Koi Show 2022